If you're looking for some inspiration when it comes to dining room wall decor, you've come to the right place! In this blog post, we will showcase 46 different ideas that will help you create a beautiful and unique space.
Whether you're looking for something classic or contemporary, there is sure to be an idea here that suits your style. So get ready to be inspired and start decorating!
Ideas you can incorporate to have a distinctive look
Check out the ideas below to see how you can create visual interest and make your room feel like an inviting place to come together with loved ones. By incorporating some of the ideas below, you can revamp your room as if it were done by an interior designer!
For more home decor advice, read our post: Simple home decor ideas to spruce up your home.
1. Wall arrangement
If you want your walls to have a decent and attractive appearance, you can create a wall arrangement from framed artwork or framed prints.
Floating shelves may also be used to arrange photos, candles, or plant plants on the wall. The shelves will provide ample area for decorating your walls while still keeping things tidy. Leaving negative space will keep things from looking cluttered but still interesting.
2. Photographs of white and black displayed together
Consider hanging black and white family photos or an art collection you've collected to enhance the appearance of your dining area. Black and white wall art would also look great as a backdrop for a formal dining room. The image above pairs it with a black dining room table and chairs, creating visual interest.
3. Bohemian-inspired decor
Bohemian wall art is a great way to add warmth while using natural styles and elements. This popular trend incorporates eclectic and unconventional decor, including bright colors, intricate patterns, and natural materials like wood, metal, and textiles. It may include tapestries, macrame, and framed prints.
4. Mirrors
Mirrors may be used to brighten up a dark dining area or a tiny place by adding more light and creating the illusion of space. When placed adjacent to a window or lighting, they amplify the light.
5. Attractive curtains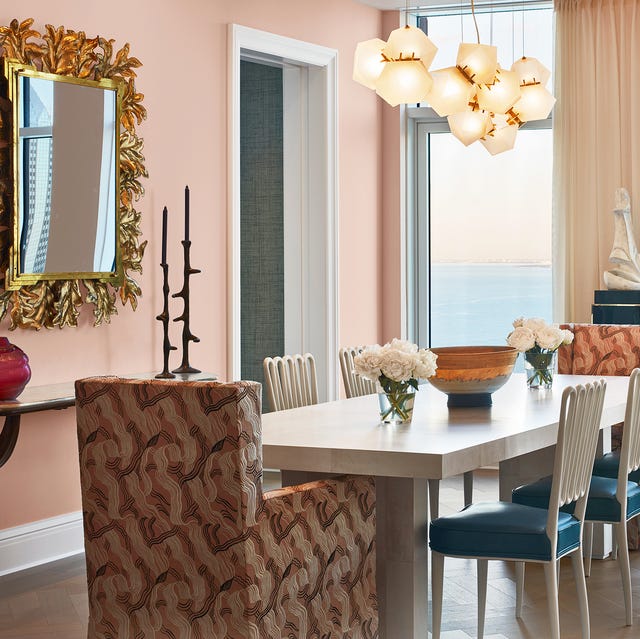 Combining patterned drapes and great wall colors may give your dining walls a fresh and colorful look.
6. Mount a TV
You can decide to break the monotony of the dining room being for meals only. Introduce a tv for entertainment s you can catch up on the latest news as you bond with your family at the table.
7. Have a few cute messages
If you have a boring dining room, make it more interesting and inviting to your visitors by displaying catchy quotations on the walls.
8. Place a wall clock
A wall clock will not only enhance the look of your dining room, but will also provide functionality. Find a clock that complements your other decorations in the space by finding one with similar colors to the rest of your decor.
9. A painting on canvas
A large statement piece of artwork is a great conversation piece to hang near the dining table.
10. Statement wallpaper
Wallpapers may help you create attractive and distinctive walls.
11. Use unique art
Having an image hung at different levels is an example of unique art that adds dimension to your space.
12. Light your dining room walls
You can make your dining room appear lovely and bright by adding lighting to the walls.
13. Use Powerful Quotations
Personally, I much prefer framed words over wall decals. They just seem so much more classy!
14. Bring outside in!
Adding plants to your dining room is a great idea if you have windows drawing in light. It livens up the space and adds a pop of color, too.
15. Integrate exposed stone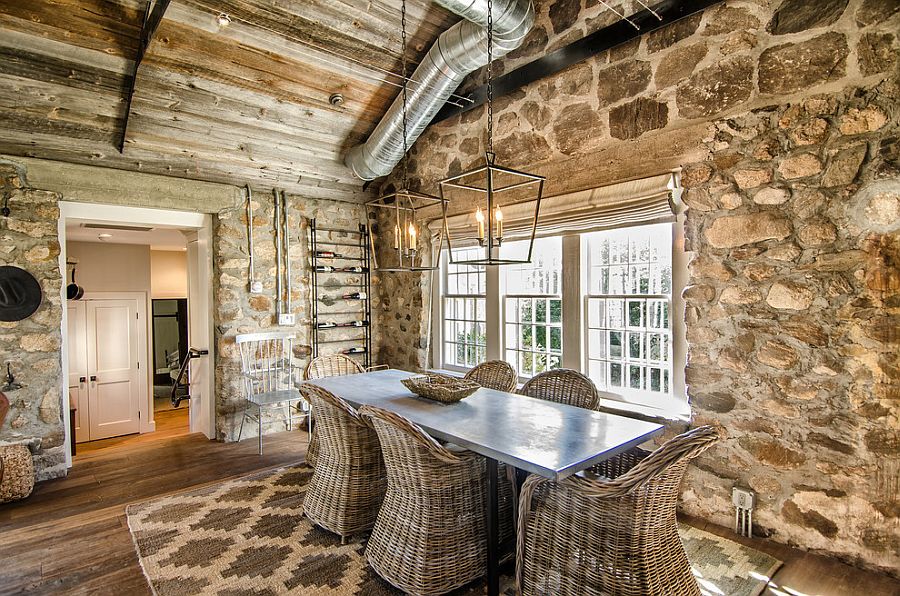 Exposed rock is a beautiful feature to have for dining room walls. Accent with candlelight and other natural decor materials.
16. 3D Wall art
This wall with 3D art and neutral tones makes for a funky interior design and is quite unique.
17. Marble walls
When you want the natural feel on your dining walls but still want a bit of color, try marble. With this material in your dining space, you'll be having a stylish and luxurious look. This marble with a blue hue is absolutely stunning.
18. Create a vintage look with wooden cladding and panels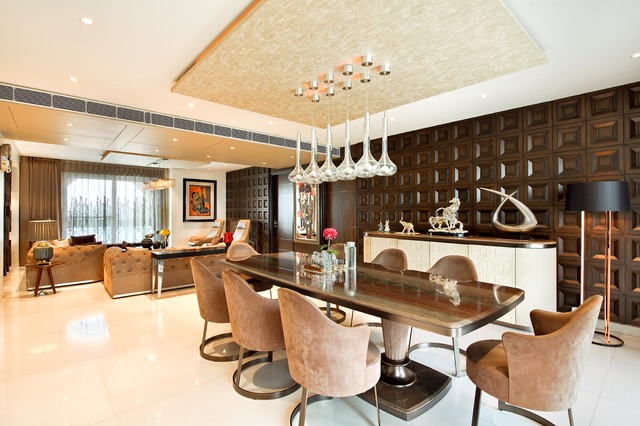 Make the walls in your dining room stand out by utilizing high-quality wood that has been well-designed and styled.
19. Brick dining walls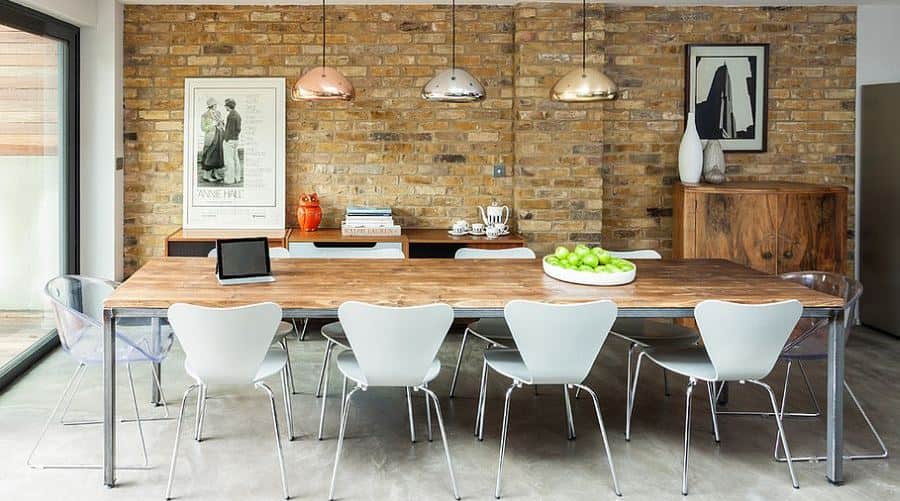 If you don't like stone walls, try bricks and see what a difference they'll make to your dining space. It will provide a modern and contemporary flair to your room.
20. Plate decorations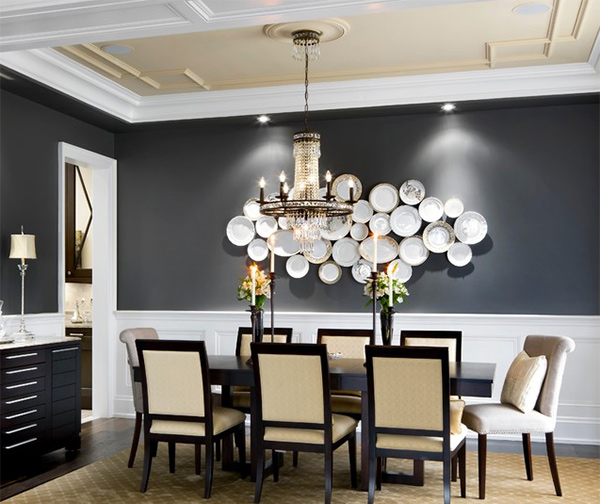 This can be done with plates or with wicker bowls. Both are unique ways to style dining room wall decor.
21. A living wall
Serious plant lovers can create an entire living wall with trailing plants for a large statement piece.
22. Wall sculpture
23. Minimalist
Minimalism is the way to go if you like simple yet elegant designs.
24. Use bold paints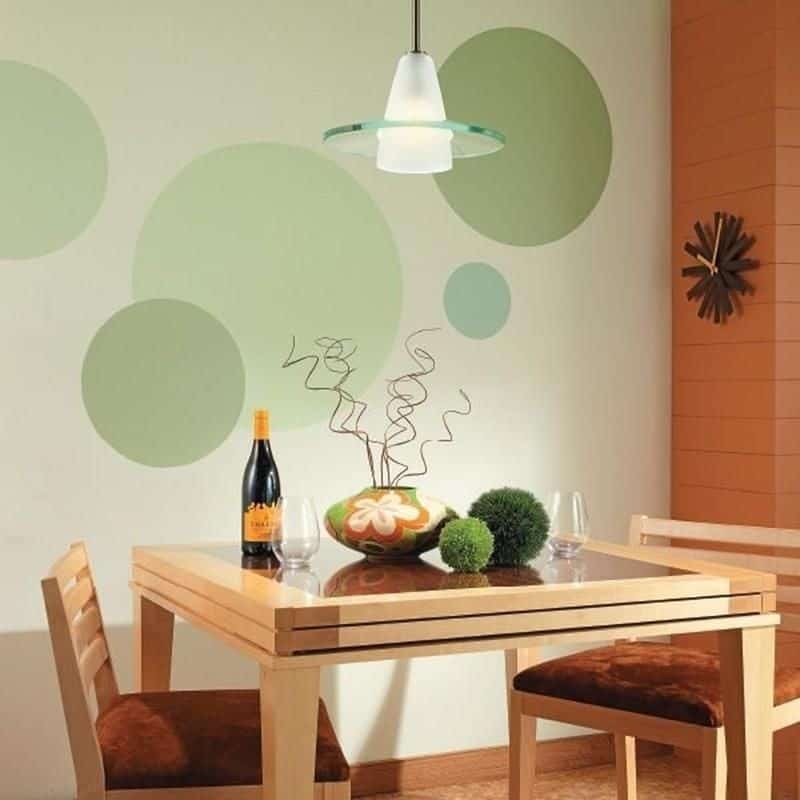 An accent wall is a great way to add dimensions to you space without having to do an overhaul of the space. You may also play around with color to make bands, chevrons, and circles.
25. Signage
The walls of your dining room are a great place to hang signs. The signages are basic cutouts with stylish inscriptions.
26. Add shelving
27. Decoration complimenting the furniture
28. Mirror wall
Accent mirrors are a popular focal point in any home, and by having multiple you can create wonderful dining room decor.
29. Chalkboard art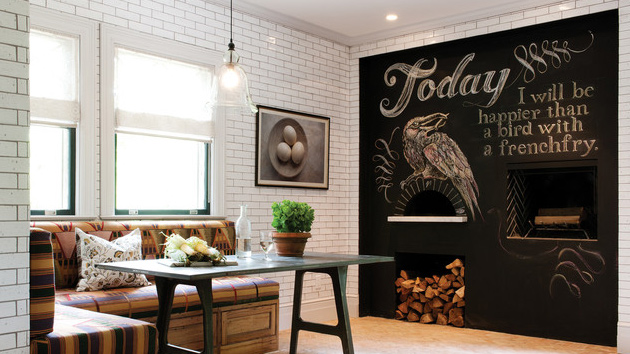 Turn your entire dining room wall into art by creating a chalkboard.
30. Built-in cabinets
A built-in cabinet in your dining room can be decorative if you don't enjoy paintings or artwork. It's also a creative way to display your dishware.
31. Floral dining room decor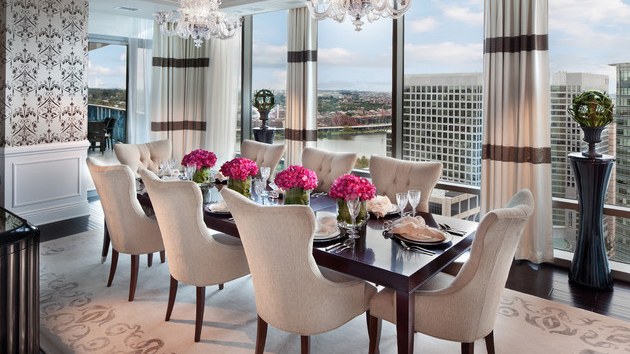 Use either fresh-cut flowers or synthetic flowers to add a pop of color into your room. Colorful flowers are a great way to add a colorful accent.
32. Rustic wall décor
33. Display the side buffet table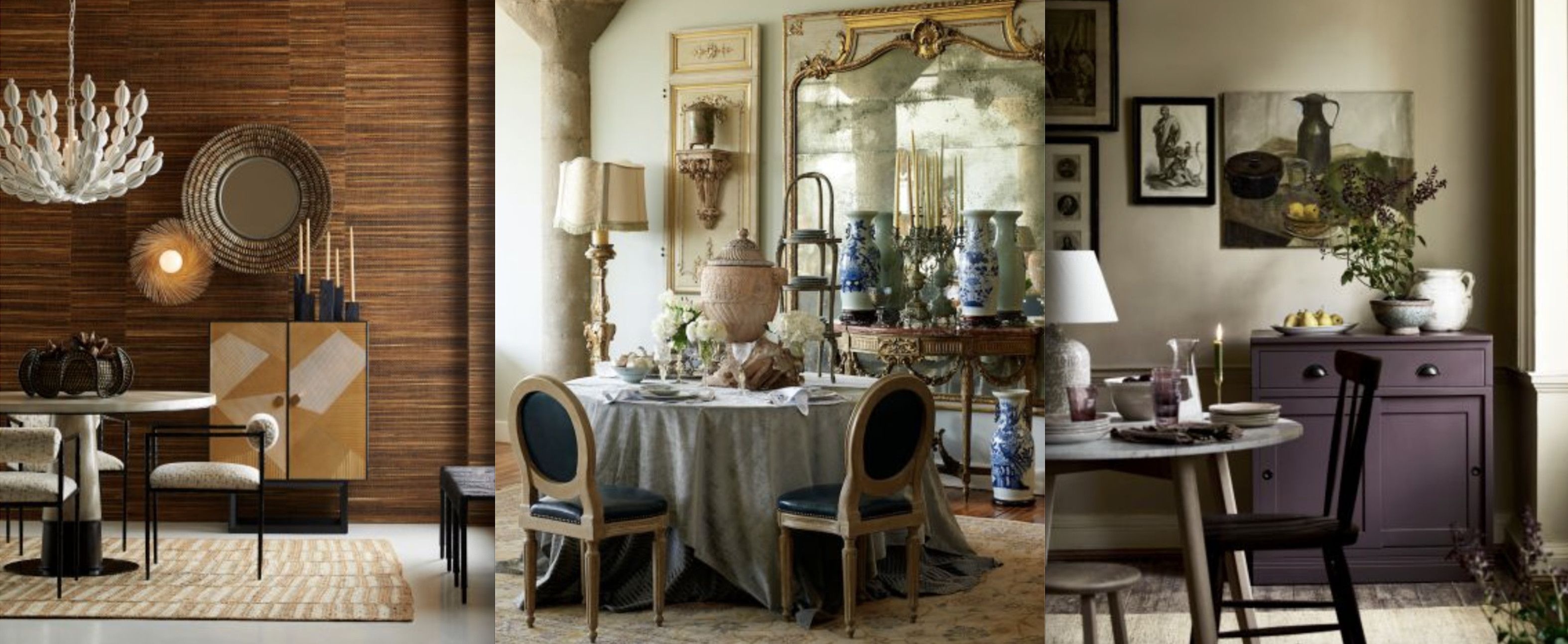 A side buffet table is both attractive and functional. When not in use, it can serve as decor. But, when entertaining guests you can use it as a serving station.
34. Hang tapestry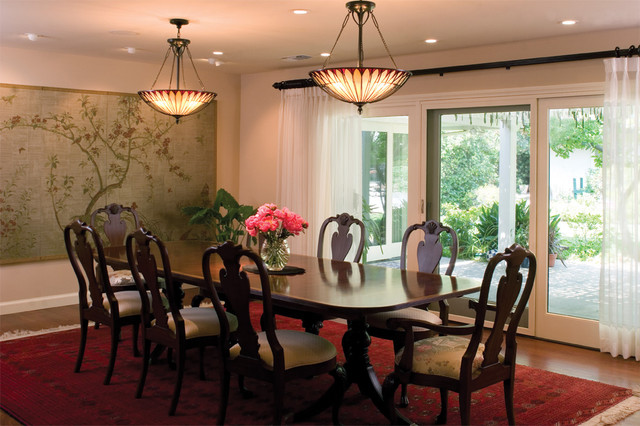 You may make your own beautiful macrame or acquire them and bring the natural look indoors. Or, consider a beautiful canvss tapestry like this for a large statement piece.
35. Wall sconces

You may add interest to your dining area by putting sconces on its walls. Matching the chandelier to a pair of wall sconces will give your dining area a strong appearance. The combination will make your dining room's walls beautiful and tranquil.
36. Mural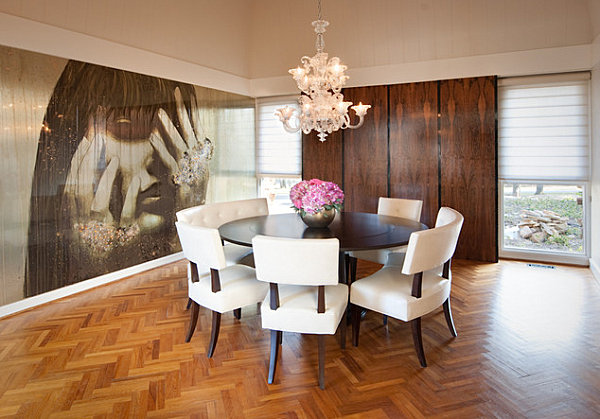 37. Room partitions and dividers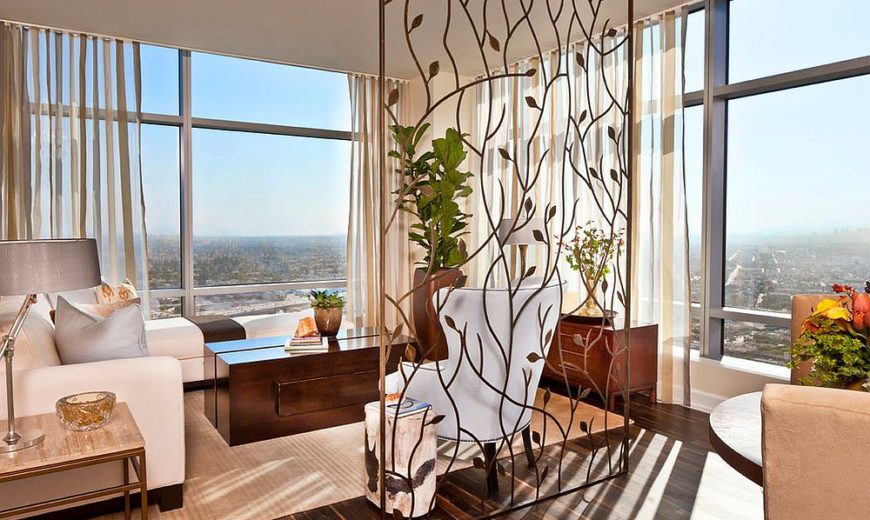 38. Wall shadow box
39. Gallery wall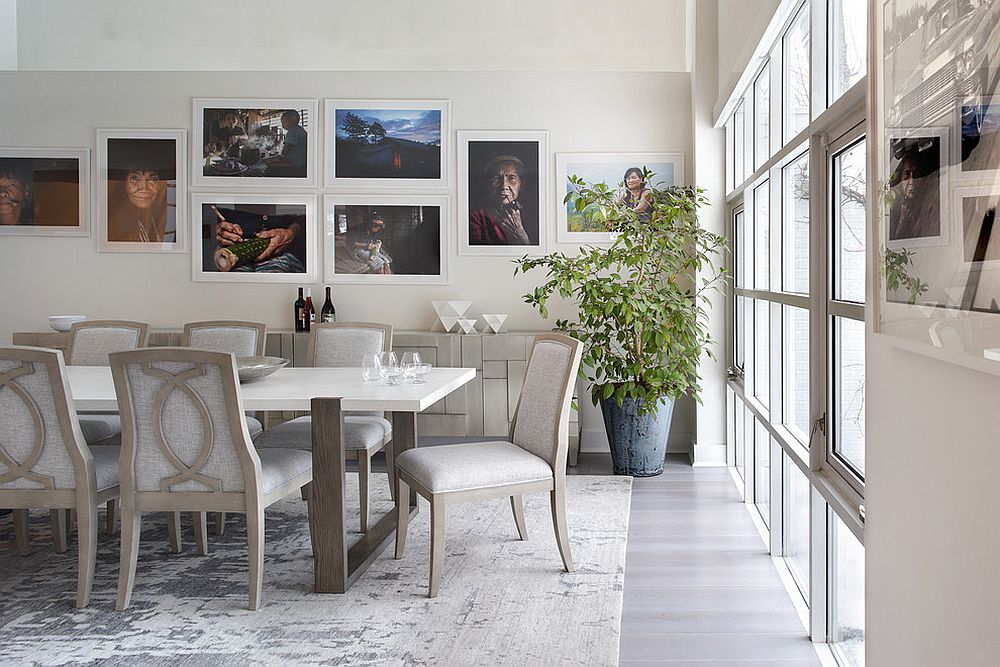 40. Try the two-tone paint split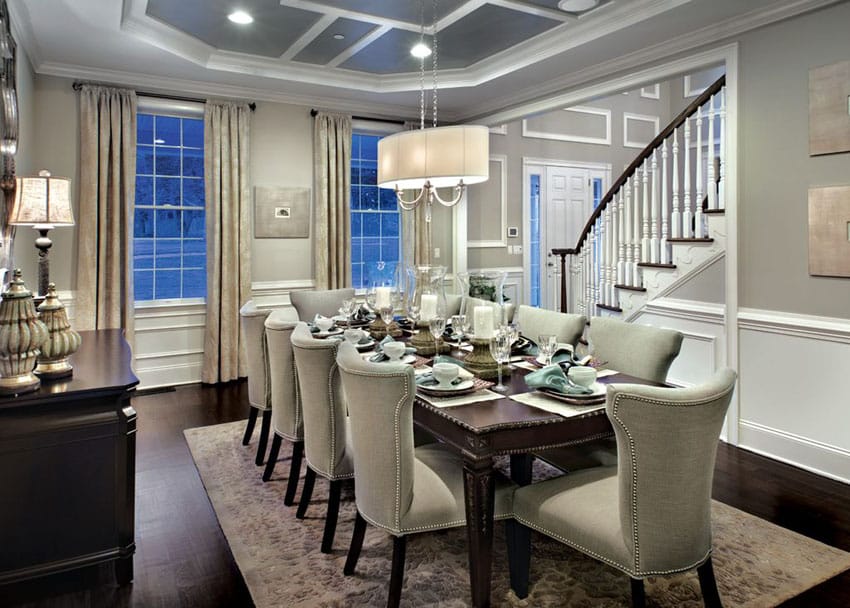 Painting your dining room wall in two tones is a wonderful method to add color and pattern.
41. Change up the ceiling
If you choose to consider the ceiling as your fifth wall, it can be used as a decorative location. To make your dining room ceiling stand out, try experimenting with different hues and patterns.
42. Go gray
If you don't care for décor elements on your dining walls and dislike colorful paint, consider going gray.
43. Add stripes
44. Industrial looks
45. Antique & Vintage dining room wall decor
46. Decorate with stencils
When you arrange your stencils well, they may make your dining room walls seem nice. Ensure that the stencils are in agreement with the other furnishings in the space to make them stand out.
Resources
Looking for more home decor and organization projects? Check out some of our posts here!
Home decor by Mama's Must-Haves
Spruce up your home and showcase your personal style with out home decorating tips and advice.